Our feet are one of the important assets that carry us everywhere and bear our body weight. None of us would like it if there is a restriction on moving as it would affect our quality of life. Therefore, it is essential we take care of your feet diligently.
One of the most common problems that podiatrists see is foot wounds that can greatly impact our movement. However, it is possible to take care of foot ulcer wounds by visiting a podiatric, proper treatment, and examination along with good at-home care.
Diabetic foot ulcer
Diabetes is one of the main reasons for foot ulcers and wounds in the U.S. A diabetic foot ulcer or soreness develops as a hole in the bottom of the foot. Some patients with diabetic foot ulcers may even need hospitalization due to infection or other ulcer-related problems.
Almost 25% of Americans who develop foot wounds due to diabetes might need an amputation. Therefore, it becomes necessary to visit a good podiatrist for helping patients prevent developing foot ulcers
Paying a visit to a podiatrist, Orange County
If you are in Irvine and notice an ulcer in your foot, it is time to visit Podiatrist in Irvine, the best diabetic wound care Orange County podiatrist clinic. Their podiatrist, Dr. Sima Soltani has more than 20 years of experience in treating patients with any kind of foot and ankle problems through non-surgical methods.
With the latest and advanced technologies and extreme patient care, they can treat any kind of foot problem in their podiatry clinic. They offer all kinds of foot treatments for bunions, ankle diabetic foot care, joints, hammertoes, warts, laser fungal nails, sprains, and sports injuries along with services for diabetic shoes and custom orthotics.
Preventing foot wounds
One of the best ways to avoid any kind of foot wound is prevention. You need to keep a check and visually inspect your feet regularly for any kind of holes, open wounds, ulcers, blisters, cuts, and bruises. Any kind of small wound on the feet should not be ignored as they might be painless in the beginning but can become large and infectious in no time.
You are at a high risk of developing a foot ulcer wound if you have the following:
Poor blood circulation
Neuropathy
Bunion or hammertoe
High blood sugar
High cholesterol
Previous issues of foot ulceration
Wearing improper shoes, smoking, and drinking are also other risk factors for foot wounds. Therefore, seeing an Orange County wound care specialist regularly is highly recommended to determine if you are at risk of developing a foot ulcer.
Foot ulcer wound symptoms
Most of us might not notice foot ulcer wounds as they are painless. However, if you notice any swelling, redness, or a foul-smelling yellow discharge, consult your podiatrist immediately as they can be signs of foot ulceration.
Foot ulcer treatment and care
Foot ulcers must heal rapidly. The sooner the ulcer gets treated and heals, the lesser would be the chances of any kind of foot infection.
Podiatrists recommend proper medical care and treatment for rapid healing of foot wounds like: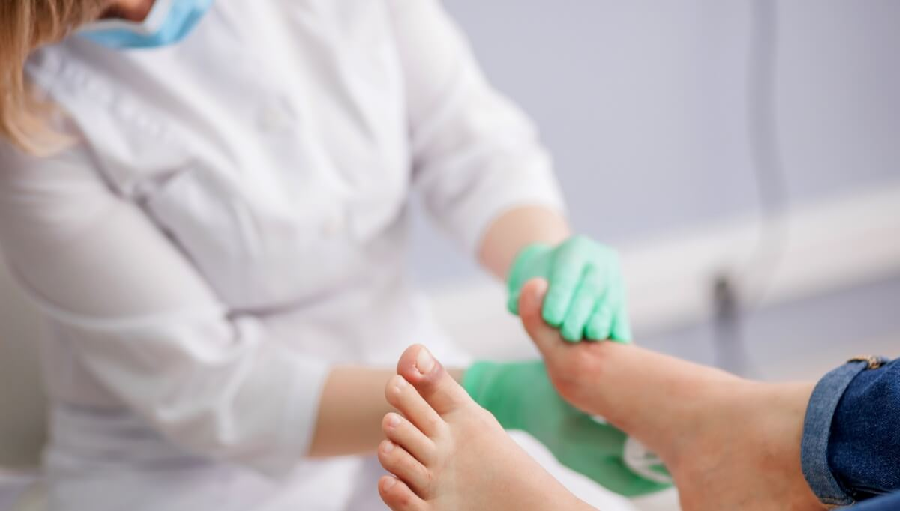 Debridement or removing dead skin and tissues
Off-loading or not putting pressure on the area
Dressing the ulcer wounds
Maintaining optimum blood sugar levels
Preventing and treating any kind of foot infection with proper medication
Have a proper blood circulation
Visit a good foot and ankle specialist Orange County for a proper diagnosis if the foot ulcer is infected and needs an antibiotic treatment.
Debridement
Removing dead tissues and skin is an effective treatment as it increases blood flow to the wound area and enhances healing.
Off-loading
It reduces irritation, friction, and pressure on the ulcer area thus, helping in rapid healing. Your podiatrist might prescribe specialized casting, crutches, brace, or special footwear.
Dressing the wound
Proper dressing, changing it regularly and maintaining hygiene to keep the ulcer area clean and bacteria-free help in the healing process. Your podiatrist will prescribe topical medications to enhance the healing.
Looking for early signs of foot ulcer wounds and keeping a check on your feet is very important so that the problem can be taken care of during the initial stages. It does not matter how small the foot wound or blister is, getting it checked by a podiatrist is the best way out to avoid any further complications.